Usage
4K/2K Picture quality measurement of broadcasting equipment such as codec systems and broadcasting systems
4K/2K Picture quality measurement of other video equipment and video systems
4K video real time double stimulus (a comparison method) quality analysis
The frame delay of full sample 4K reference video and 4K test video are compensated to fit exactly to each other by pixel base, and a real time objective quality score (DSCQS) are calculated by the ITU-T J.144-based assessing method in conjunction with the differential values (PSNR). This scheme is best suited to the encoder evaluation, online/standby comparison, inspection geared to video servers, and so on. For conventional 1080i image evaluation, a single PROBE4000 board can serve the purpose.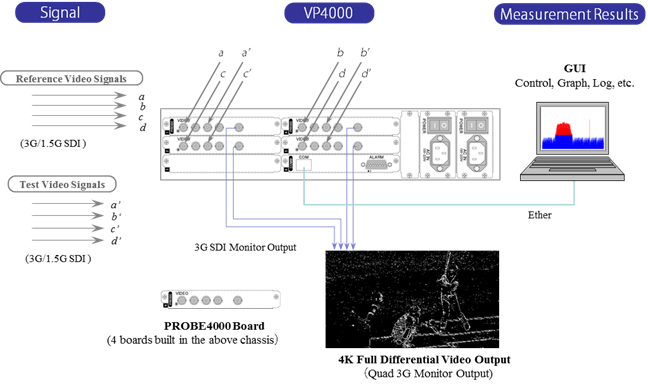 Input video specifications
・Resolution/frame rate: 3840 x 2160, YC 4:2:2, 10, bit 59.94p/50p/60p (with four PROBE4000 boards)
・Resolution/frame rate: 1920 x 1080, YC 4:2:2, 10 bit, 59.94p/50p/60p (with one PROBE4000 board)
・SDI:3G-SDI Level A or Level B Quad input, SMPTE 424M/ SMPTE 425M
・Image Partition: Square Division(Quarters)and 2-Sample Interleaves with the SQD and 2SI of the reference signal and the test signal matched
PSNR and Objective Quality Score, DSCQS
Since DSCQS, the objective quality score obtained from the double stimulus analysis is usable as a subjective score in its own given by a human eyes (QoE: Quality of Experience), whether or not user quality requirement is met can precisely be judged on a frame basis. In general, at a broadcasting station, for instance, degree of picture quality degradation not exceeding 12 % (4.5 or more in 5-point scale) is acceptable from the viewpoint of service.
DSCQS : Double Stimulus Continuous Quality Scale.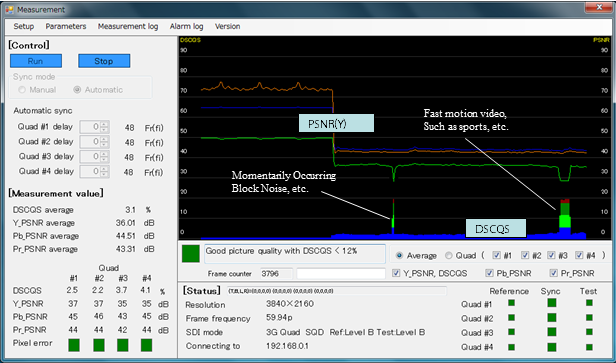 ITU-T J.144 picture quality measurement algorithm
Core parameters for picture quality analysis are calculated complying with ITU-T J.144 standard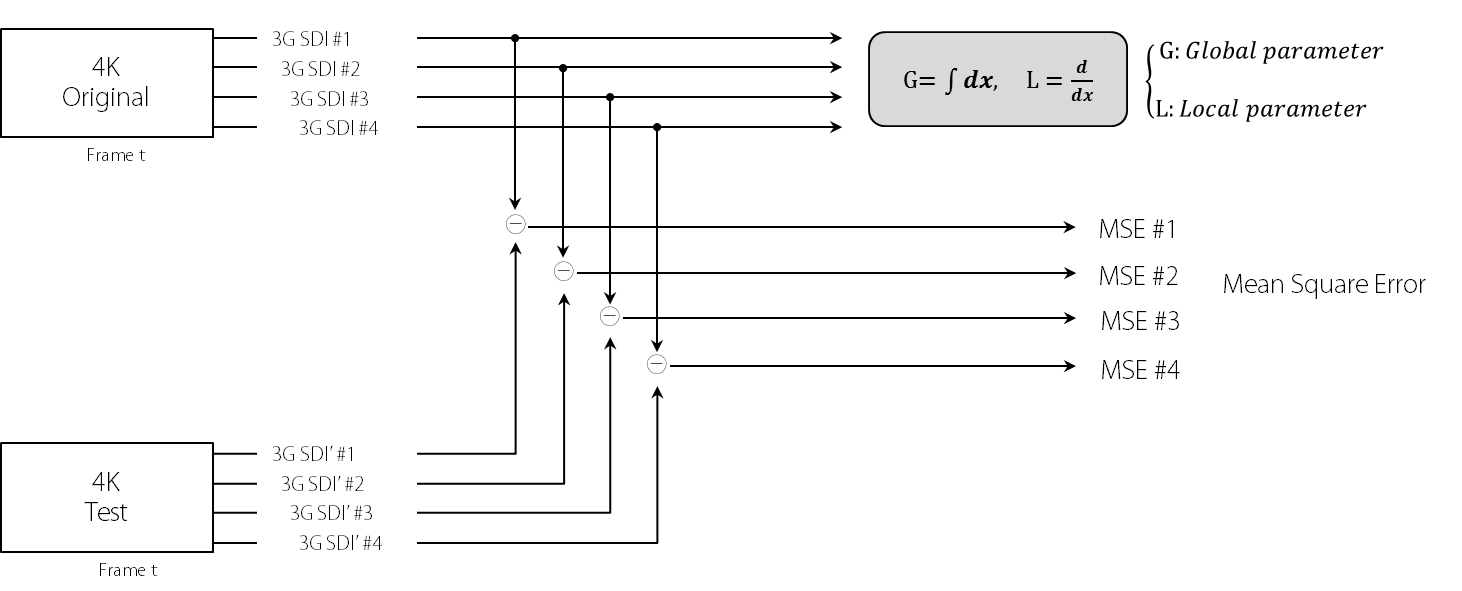 PSNR and objective DSCQS (Double Stimulus Continuous Quality Scale)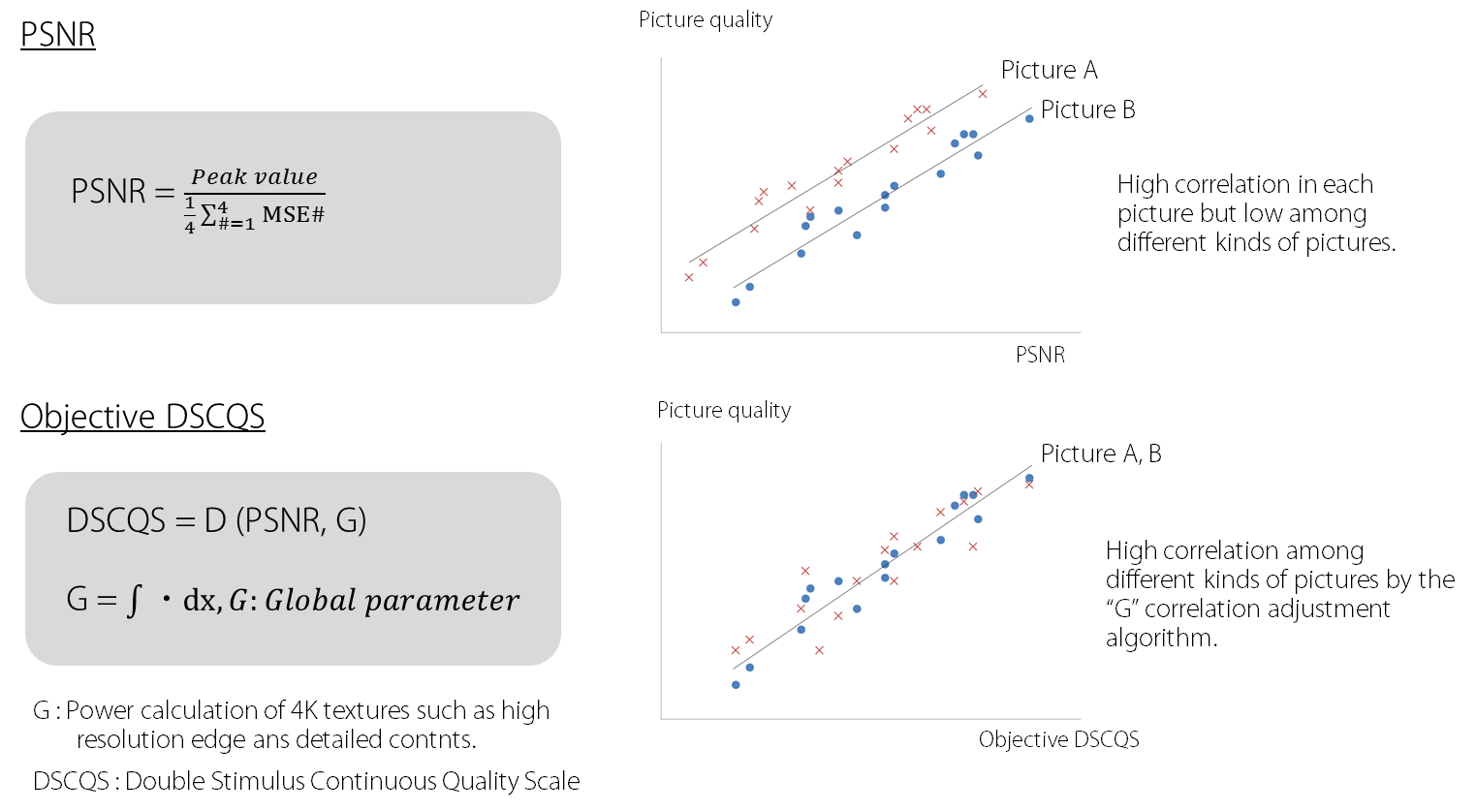 Very locally occurred pixel error can be detected which PSNR is incapable
It is quite difficult by PSNR to detect a very locally occurred pixel error such as single block noise or a dot inversion because PSNR is an averaged value where a minor error becomes negligible small. However, VP4000 can identify a pixel error from compression noise by a pixel by pixel investigation algorithm

VP4000 chassis specifications
Specifications
External Dimensions
19 inch rack mount size 2U  W:D:H=420:463:88(mm)
Power Consumption
100V~240V, 50Hz/60Hz, 35VA (Max)
PROBE4000 board specifications
Item
Specifications
Input Signal
Video Signal
<Standard>
BNC 2 channels (3G SDI or HD-SDI)
(1) Reference Video (SDI-1 IN)
(2) Assessed Video (SDI-2 IN)
Video Signal
<Format>
3840 ×2160 YC 4:2:2, 10bit, 59.94p/50p
3G-SDI Level A or Level B Quad Link, SMPTE 424M / SMPTE 425M
1920 ×1080 59.94i (SMPTE274M)
Time Code Signal
VITC, LTC
Output Signal
Video Signal
OSD display of test/differential video monitor out and measurement results, frame delay, etc. (MONITOR)
Measurement
Video
-Frame delay amount of test video
-DSCQS Measurement
-PSNR Measurement (Y, Pb, Pr)
-Pixel value inverse/Small block noise detection (Pixel error)
Synchronization
Compensation
Video
Synchronization
-Delay compensation time:0~15 sec.(3G SDI) 0~30 sec. (1.5G SDI)
<Synchronization method>
-Automatic synchronization

-Manual synchronization
Introduction video