Block noise, line noise, audio shot noise, etc. can be captured accurately, and QC (quality check) of video files can be performed at high speed.
The ProQ4000 is a workstation base QC software for 4K/2K SDI signals and video files to catch video/audio noise at a professional level and display them by alarm message and graph. One click on the alarm message gives a captured error video for human visual check. QC (Quality Control) of your video business is dramatically improved by ProQ4000. In other words, it can replace the labor intensive visual inspection such as heat run of encoders and transcoders, preview inspection of video files, quality inspection of video copies, and manufacturing checks of video equipment.

The ProQ4000 is delivered as a turnkey system including a PC workstation, capable of QC on 1 channel of 4K (SDI or file [XAVC]) or up to 4 channels of 2K (SDI or various files/codecs) simultaneously. For 4K XAVC, QC (quality check) is performed at processing speeds equivalent to real time.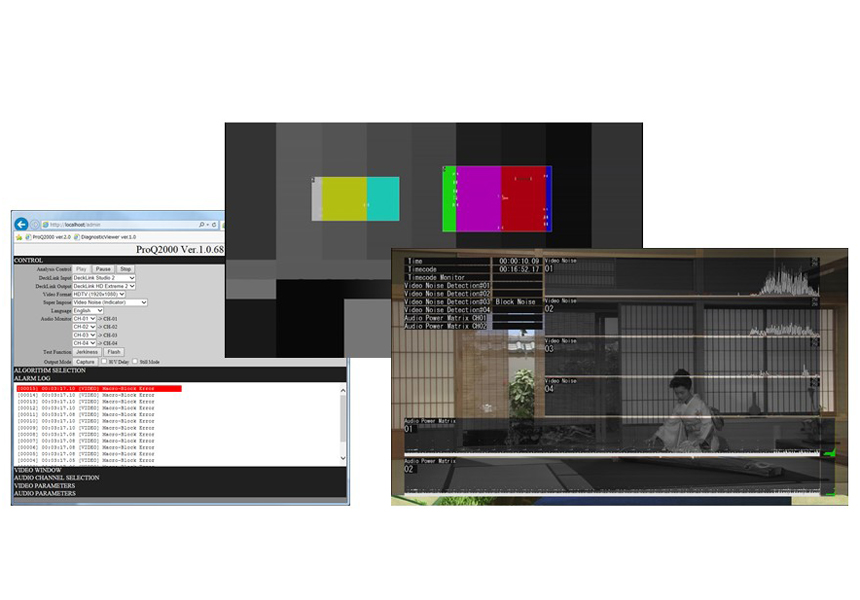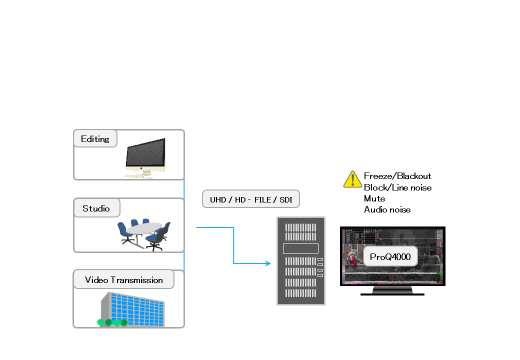 How to use and Features
UHD/HD - FILE/SDI in video service operations can be unmanned monitored by ProQ server at real time base (faster than real time for 4K FILE). Quality problem in video/audio is detected and alarm message and captured error video are displayed on ProQ GUI .
Total video & audio QC (quality check) of 4K/2K SDI signals and video files
Supports quick visual confirmation by generating video captures and thumbnails
Diagnose various faults and video/audio noise and display results superimposed on the video signal.
Detects block noise, line noise, short freeze/blackout, and image skipping in video signals
Detects pops, breaks, and noise in audio signals (noise detection from up to 8 channels of audio signals)
By clicking the alarm in histories on the GUI, you can play and see the short video and sound corresponding to the time of alarm output.
Possible to change the QC item and change parameters during QC operation
Display the graphs and waveforms of image feature parameters and audio signals on the monitor screen
Software control by web browser
Can be controlled remotely via network (HTTP protocol)
Graph analysis
Time transition of error occurrence is displayed on graphs.
Maximum six graphs are overlaid on the video.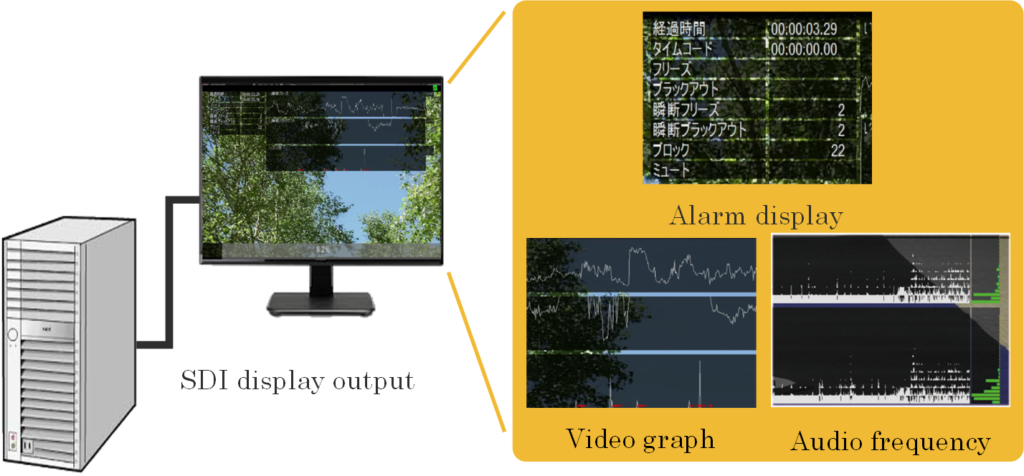 To play a video/audio error clip for human visual check
Clicking a log alarm on the GUI pops up 3 second error video/audio repeated clip, while analysis goes on at background.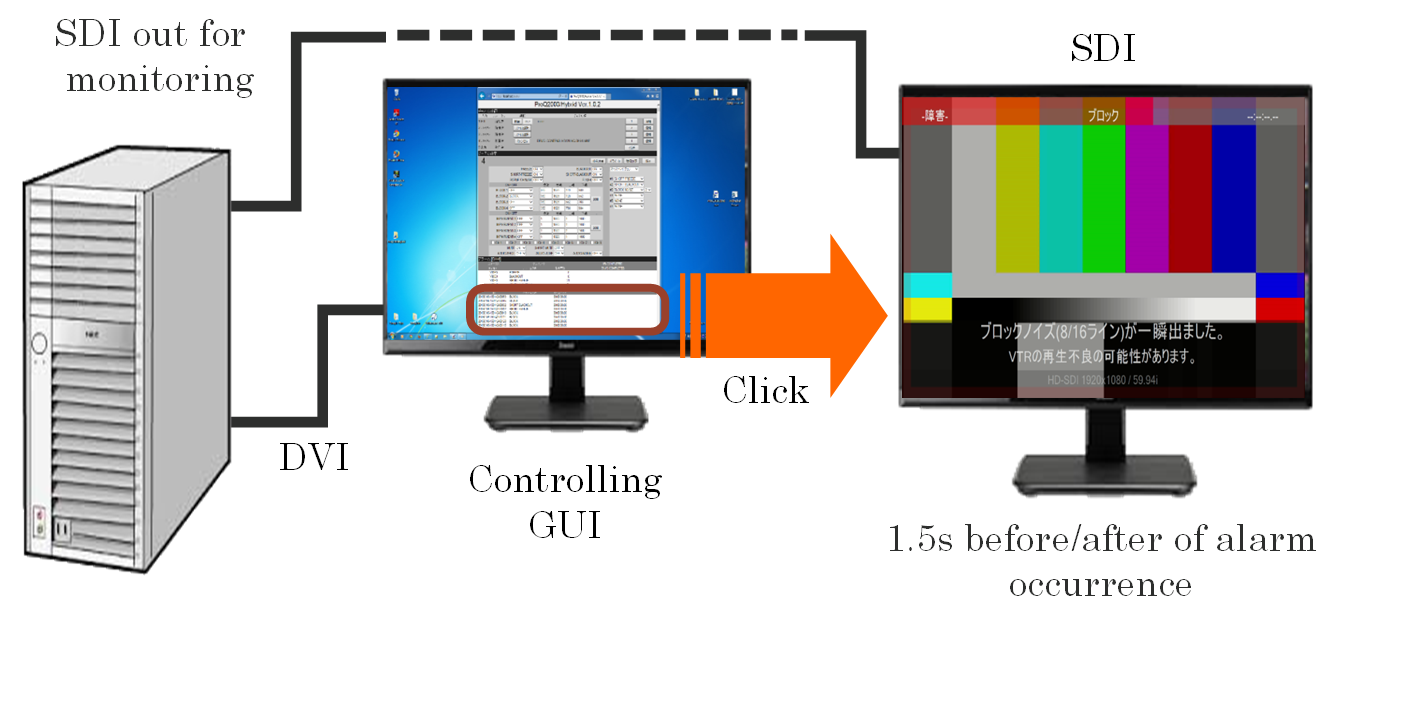 QC items
Video
・Block Noise
・Line Noise
・Subliminal/Jerkiness
・Freeze / Short Freeze
・Blackout / Short Blackout
・Scene change check
Audio (max 8ch)
・Mute/ Short Mute
・Audio shot noise
・Audio jump
・Audio white noise
Time code check
・Time code continuity check
Guidleine analysis
・Flashing,
・Loudness
ProQ4000 Specifications
Specification
Requirements for operations
Video capture
Two Blackmagic DeckLink boards for input and output
OS
Windows11
Input signal
HD
HD-SDI:
1080p/60Hz, 59.94Hz, 50Hz, 30Hz, 29.97Hz, 25Hz, 24Hz, 23.98Hz
1080i/60Hz, 59.94Hz, 50Hz,

Video file:
XDCAM method-specific MXF file format
MPEG HD422 / 50 Mbps MPEG HD420 / 18, 25, 35 Mbps,
P2 method-specific MXF file format
AVC-Intra50/100, MPEG-4 AVC/H.264 Intra Profile

UHD
12G-SDI / 3G-SDI Quad Link:
2160p/59.94Hz

Video file:
MXF file format
XAVC(H.264/MPEG-4 AVC, Intra frame/Long GOP)
2160p/60Hz, 59.94Hz, 50Hz, 30Hz, 29.97Hz, 25Hz, 24Hz, 23.98Hz

QC item
Video
Freeze/Blackout, Short Freeze/Blackout
Block noise/Line noise/Jerkiness
Scene change check
Flashing*1

Audio
Mute/ Short Mute, Audio jump
Audio shot noise, Audio white noise
Loudness

*1:During 12G-SDI input, video/audio noise detection and light blinking detection are optional.
Introduction video